About Urban Griots
griot |grēˈō; ˈgrēō|, noun
a member of a class of traveling poets, musicians, and storytellers
who maintain a tradition of oral history in parts of West Africa.
The
Urban Griot Collaborative
was first formed in 2009 at the UC Berkeley School of Information and laid the foundation for the design of a culturally-grounded story exchange platform to support the social and peer contexts of emergent new media literacies. The work was extended through
Pierre Tchetgen's doctoral research on the Drumball
from 2011-2020.
The project aims to engage primary stakeholders in early childhood education (parents, teachers, researchers, policymakers, technology designers) to re-imagine and consider the possibilities afforded by culturally-responsive, play-based learning environments grounded in cultural systems of non–European or non-European-American ethnic groups.
As a research initiative of
Word.Sound.Life.
, the Urban Griot Collaborative works in partnership with researchers at UC Berkeley's
Graduate School of Education
and
School of Information
, the
Comparative Media Studies/Writing department at MIT
and the
College of Arts, Media and Design at Northeastern University
.
---
Urban Griots In the News
Join the community on Patreon
---
2021 Goals & Outcomes
In partnership with the
Center for Technology, Society and Policy
, the
Graduate School of Education
and the
Department of Music Technology at Northeastern University
, Urban Griot is designing a rhythmic communication interface and application that leverages and is inspired by the principles and methods of communication using the talking drum to help children (under 7) build multimodal literacy and social-emotional skills. Our design will be intuitive to a wide age range, afford multiple interaction modes (real-time, asynchronous, collaborative), and be accessible at low cost. Our design will also be capable of forming a foundation for a dynamic repository of drum language information (proverbs, appellations, poems etc).
Through the Urban Griots Collaborative platform and Virtual Playground, our goals and objectives are to:
Survey and identify existing music-based early literacy and social-emotional learning (SEL) frameworks as well as showcase new early literacy apps
Complete a design sprint process and create a detailed storyboard of the most viable user journey
Complete an internal validation of the design with current and former participants of the Urban Griots Playground family workshop
Finalize the framework of the Drumball ecosystem including sample corpora, games and resources for parents and educators (such as video webinars, audio podcasts and activity materials)
---
Our Vision
to support the early literacy, social and emotional development of children
to understand what affordances the drum language communication modality can contribute to children's development, especially when mediated via a digital embodied learning environment.
to prototype the design of culturally-grounded technologies that can facilitate the inclusion of relevant cultural knowledge and history to provide new gains for children across a variety of contexts
Four Pillars
MIND


NYANSAPO
"Wisdom Knot"
Intelligence, patience
BODY


ONYANKOPON
"By God's Grace"
Hope, Faith
SPIRIT


SANKOFA
"Return and get it"
Learn from the past
---
Parent Testimonials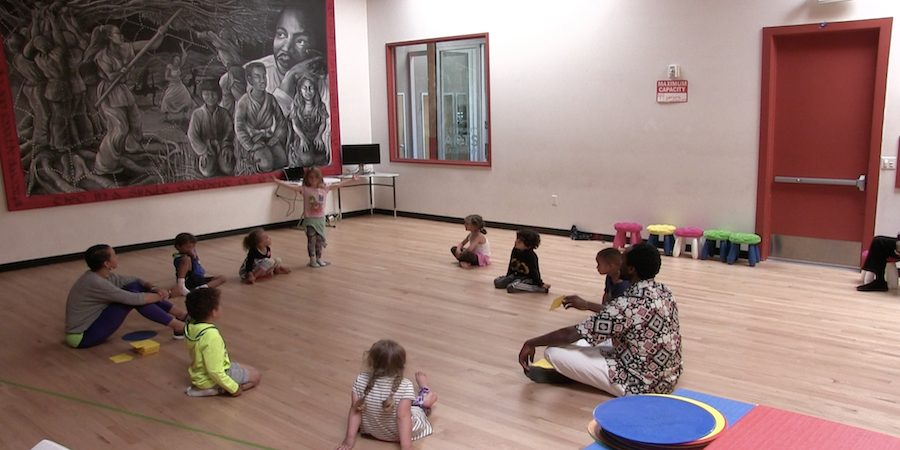 "I really liked the idea of the curriculum. The cultural aspect of it. The literacy. The rhythm. One of my goals for my daughter is to broaden her world, in any way I can, to expand it. I felt like this series planted some nice seeds for that."

"I really liked the social aspect as well. I liked that the letter representation was very physical because when I learned an instrument later on, it was really hard to have an instrument in the way. Like right way. I think I could learn better using my own body, because I can take it with me. That was really good for my son too."

"My son started making music using various improvised objects (like his cars, for example). He also started celebrating people's achievement a lot more, or somebody's doing something good, like when he sees a baby (didn't use to clap for anything before, so that was interesting). He's also been singing the Ashe song."
Previous
Next
---
>